SEO Simternship™ is the world's first and only SEO simulation.
Written by authors in industry and academia for the most relevant SEO courseware on the market.
Stukent is here for you and your class.
All participants will receive an industry-vetted certificate.
Assignments in every chapter give students real-world, hands-on experience. This courseware also includes over 100 instructor resources.
Give students experiences they can take to interviews.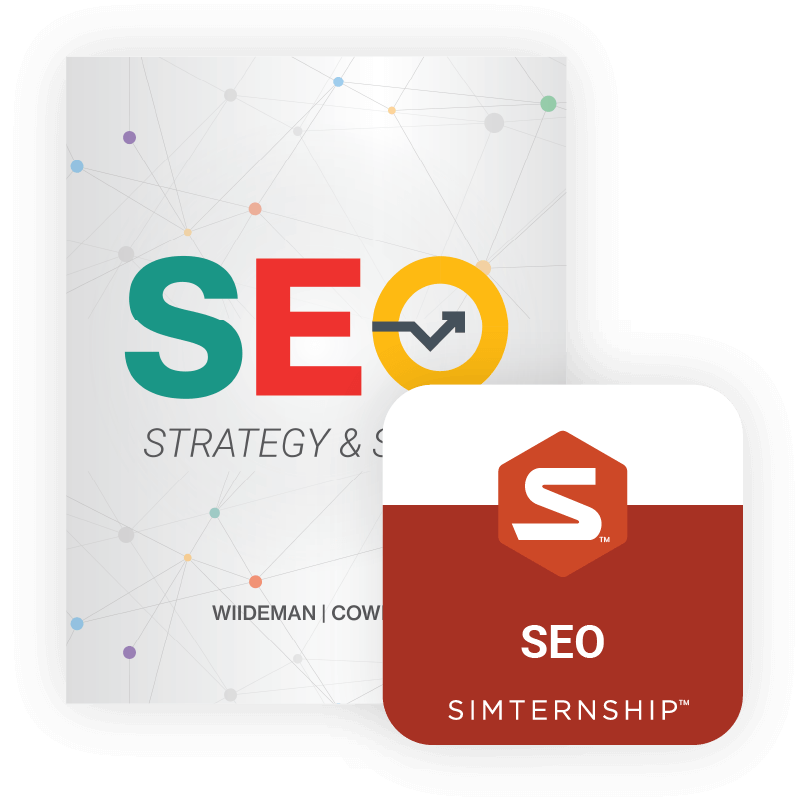 An
Interactive

Simulation,

Foundational

SEO Theories, and

Real-world

Projects in One Courseware Bundle
Bridge the gap between the classroom and the job market! Set your students up for SEO success with "SEO: Strategy & Skills" and SEO Simternship™.
All-encompassing SEO Courseware
At the end of this course, students should be able to:
Understand

the

primary

business

function

of

SEO

Perform

appropriate

analysis

in

preparation

for

conducting

a

successful

SEO

campaign

Accomplish

key

tasks

associated

with

SEO

for

websites

and

other

media

Measure

and

report

on

SEO

outcomes

and

make

adjustments

based

on

performance

data
15 assignments with real-world applications
(instructor and student versions)
15 auto-graded chapter quizzes
15 quiz review slides
15 lesson plans with prep recommendations and engaging class activities
15 chapter presentations (instructor and student versions)
2 student projects preparing them for an SEO job interview
Sample syllabus outlining course benefits and structure
Sample calendar to save prep time
Cumulative glossary for student reference
Give Your Students Real-world SEO Experience to Prepare Them for Successful Digital Marketing Careers
What Will Your Students Gain?
Your solution for giving students real-world experience, including:
Conducting an 

SEO

site audit
Performing keyword research and updating meta content
Optimizing landing pages and applying on-site

SEO

best practices
Analyzing and selecting an off-site

SEO

strategy
Evaluating organic traffic data, ranked keywords, authority score, and backlinks
Practicing building backlinks to increase site authority and organic traffic
Managing SEO efforts with fluctuating budgets
Stukent Simternships™ — Redefine Business Education
Redefine hands-on education with a Stukent Simternship™! A Simternship goes beyond your average business simulation, giving your students the opportunity to put the concepts you're teaching them to work.
A Stukent Simternship packs months of role-specific training into a single semester. Your students will step into real-world positions, allowing them to gain experience, master marketable skills, increase their knowledge retention, and yes, even make mistakes in a low-risk environment.
With Stukent Simternships, your students get a powerful, resume-worthy experience, while you get a hassle-free semester. Talk to a Stukent course consultant today to see how a Simternship can transform your classroom!
Why Use the Stukent's SEO Simternship™?
Students Prefer Simulations
In a survey of 4,000 students, 87% of those who had used a Stukent simulation agreed that they prefer classes that use a simulation.
Simulations Provide Industry Experience
Getting industry experience is difficult in college. The SEO Simternship™ allows students to practice SEO in a low-risk setting.
Simulations Save Prep Time
The SEO Simternship™ provides students with hands-on learning activities. Plus, it automatically grades those activities for you! 
Single Sign-on   |   Rostering   |   Grade Book Syncing​  |  Deep Linking