Single Sign-on   |   Rostering   |   Grade Book Syncing​  |  Deep Linking
Learning gets real. Bring lifelike consumer behavior challenges into your course environment and to your students. Watch them identify behaviors, psychographic, demographics of target markets, and execute marketing strategies. Personalized feedback for students and auto-graded for instructors. Immersive storyline.
The Consumer Behavior Bundle
The Consumer Behavior courseware has 130 instructor and student resources, including quizzes, videos, assignments, and more.
The Mimic Consumer Behavior simulation allows students to put what they learn into practice.
The Consumer Behavior Courseware
Chapter 1: Introduction to Consumer Behavior
Chapter 2: Consumer Needs, Motivations, and Goals
Chapter 3: Consumer Perception
Chapter 4: Consumer Learning
Chapter 5: Consumer Personalities
Chapter 6: Consumer Attitude Formation and Change
Chapter 7: Individual Decision Making
Chapter 8: Reference Groups and Word of Mouth
Chapter 9: Persuading Consumers Through Messaging
Chapter 10: Influencing the Buying Process
Chapter 11: Creating Brand Loyalty
Chapter 12: Connecting Innovation to Consumer Behavior
Chapter 13: Cross-cultural Variations in Consumer Behavior
Chapter 14: Impact of Technology on Consumer Behavior
Chapter 15: Consumer Behavior and the Regulatory Environment
Know each stage of the individual decision-making model in detail.
Determine how marketers can align spend and resources to the decision-making model.
Learn how to influence purchase decisions.
Conduct focus groups

by finding participants, developing

 questions, and analyzing results.
Retool the marketing of an existing product for promotion in a new target market.
Develop a personality trait quiz to identify market segments.
Build buyer personas to help with future marketing strategies.
Create a video advertisement targeted to buyer persona.
15 Chapters
15 Lesson Plans
4 Projects
15 Auto-graded Quizzes
30 Lecture Slides
15 Quiz Review Slides
43 Video Resources
2 Expert Sessions
4 Video Case Studies
1 Comprehensive Final Exam
1 Test Bank
The Consumer Behavior Simternship
Select market segments based on internal and external data.

Purchase qualitative and quantitative research to narrow the target market.

Create a consumer survey to identify the ideal target market.

Analyze a focus group, survey results, and other secondary research to build a customer profile and guide marketing decisions.

Build a value proposition and positioning statement based on a target customer profile.

Select the best social media marketing channels and strategies based on competitor research and advertising metrics.

Adjust ad spending and messaging following market disruptions.

Select stylistic elements to craft a campaign guide that will resonate with a target market.
Why Use Mimic Consumer Behavior?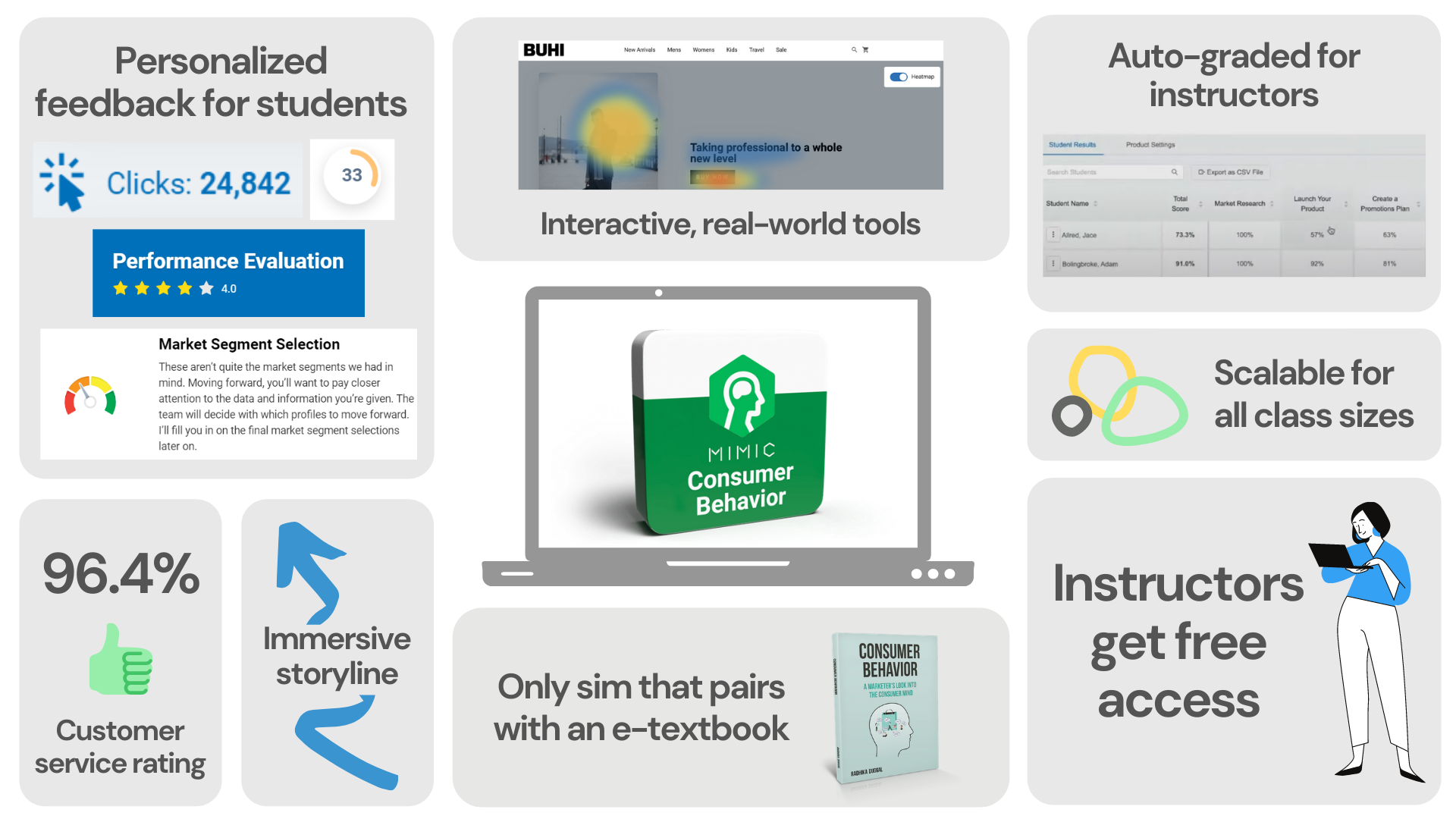 Stukent Simternships™ — Redefine Business Education
Redefine hands-on education with a Stukent Simternship™! A Simternship goes beyond your average business simulation, giving your students the opportunity to put the concepts you're teaching them to work.
A Stukent Simternship packs months of role-specific training into a single semester. Your students will step into real-world positions, allowing them to gain experience, master marketable skills, increase their knowledge retention, and yes, even make mistakes in a low-risk environment.
With Stukent Simternships, your students get a powerful, resume-worthy experience, while you get a hassle-free semester. Talk to a Stukent course consultant today to see how a Simternship can transform your classroom!
Save Time Teaching a Course Students Will Love
Includes 100+ resources inside the consumer behavior courseware that give practical, real-world experience
Single Sign-on   |   Rostering   |   Grade Book Syncing​  |  Deep Linking