As a college student, you probably know that the job hunt should begin before you receive a degree. And you may also know that LinkedIn provides the best online platform to jumpstart a new career and begin networking. In fact, according to Jobvite, 9 out of 10 employers use LinkedIn to find the right candidates.
Currently, 40 million students and recent college graduates have LinkedIn profiles. However, a lot of the students don't know how to properly optimize their profiles for maximum results. The key: present information recruiters look for.
You might wonder how recruiters search LinkedIn to find the right individuals. Answer: the same way you search for jobs on sites like Indeed or CareerBuilder. You enter keywords, a location and other filters to find exactly what you are looking for.
Do you then just click on the first option presented to you? No. You look for the right match.
Recruiters follow the same process.
So, how can you increase your chances of being found by the right recruiter? You optimize your LinkedIn profile. Here's how:
11 Tips To Optimize Your LinkedIn Profile
Tip #1: Professional Profile Photo
When a potential employer opens your LinkedIn profile, the first thing he or she sees is your profile photo. A simple and professional photo is suited best for this platform. It doesn't mean it needs to be fancy and taken by a professional photographer. Just use your smartphone and take a headshot in front of a plain background. Don't forget to dress appropriately, and smile! If you want to perfect your photo further, read this short article.
Tip #2: Don't Forget to Include Your Current Professional Status
Recruiters take the time to look at your current professional position. Even if you don't have a relevant job position at the moment, make sure to include your status as a student.
For example: Business Marketing Student at Penn State University or Student at Penn State University seeking opportunities in marketing.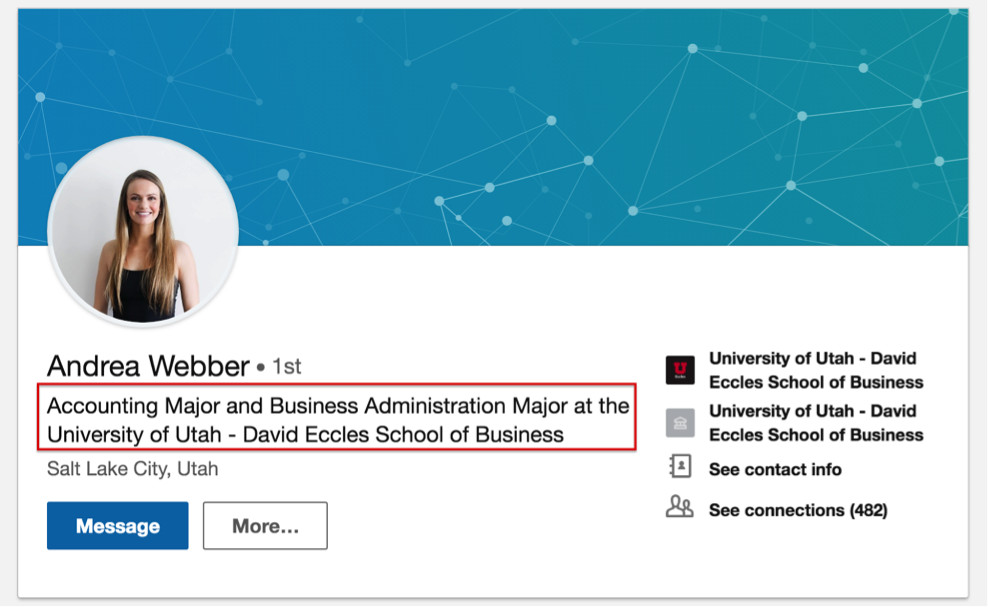 Tip #3: Contact Information
Provide correct contact information so your network can reach and follow you on other social media platforms. You can include your email, phone number, Twitter handle and even links to your online portfolios.
Tip #4: Short Summary
A short, creative and eye-grabbing summary is a great way for you to demonstrate your personality and how well you understand the field you want to work in. Your summary should include a little bit about who you are and what you hope to accomplish professionally. And you want to use keywords and phrases that recruiters might search for.
Ellen Savage, corporate recruiter from NAVEX Global, gives the following advice about including a professional summary:
Make sure to add your summary. I can only learn so much about you from your positions and headline. I care about finding the right person for a position, and I won't know if you have the potential to be that right person if I don't know anything about you. Make your summary unique to your experiences and expertise.
Here is a good example of a professional summary:

Tip #5: Relevant Experience
Organize experience in chronological order. To show your growth in a company, be sure to include any promotions you might have received.
Evan Chudnow, owner of Global Recruiters Network, gives the following advice about showing off relevant experience on your LinkedIn profile:
The important thing to include when creating your LinkedIn profile is to include any experience you may have in a specific area. Keywords that describe your experience should be included in your profile. This will help you show up more often on recruiters' searches. You may never know what role the recruiter might be looking for, and including as many keywords as possible will give you the traction to be noticed.
Use the following checklist to organize your job experience on LinkedIn:
Begin by linking the company you worked for in your job experience section.
Write a concise overview of the position you held.
Use action words such as organized, created, demonstrated and presented to describe the responsibilities you had while holding a specific position.
Use 2 or 3 bullet points to describe your experience. These bulleted lists will be eye catching and easy to read.
Always double check your spelling!
Tip #6: Education
Indicate what school you are attending and all schools you have attended. You should also add all of the activities, clubs and organizations you are part of to show your involvement in extracurricular activities. Leadership positions are highly valuable to recruiters. Examples to include: sports involvement, leadership of clubs or organizations, mentorships and other roles.
Tip #7: Volunteer Experience
Volunteer experience is a great way to showcase your involvement in the things you are passionate about. Even if you weren't paid for a job, make sure to still include it. Recruiters usually value volunteer work as much as paid jobs.
Chrystal Moore, talent acquisition sourcing leader for Danaher, gives the following advice about including volunteer experience on your LinkedIn profile:
Even if you don't have a robust background or what you feel is "enough" experience, you have to start somewhere. Add any relevant volunteer experience — and you know that senior project that you worked on that you're super proud of? It's okay to add that! Especially if it showcases some of your unique skills.
Tip #8: Skills and Endorsements
List at least five skills you have that are relevant to the career you want. Here are examples:
Microsoft Office skills
Public speaking
Teamwork
Effective communication
Time management
The combination of skills included in this section will be unique to you, so make sure to take the time to figure out what you are good at. Ask others to endorse the skills you have listed. You might want to ask coworkers, team members and instructors to endorse the skills they know you truly have.
Tip #9: Recommendations
Recruiters and hiring managers take the time to read recommendations and take them into account, though it's unlikely that recommendations will change their minds about hiring you. The best case scenario is that a recruiter or hiring manager knows the person that wrote you a recommendation, either personally or by reputation.
Danna Olsen, account manager & hiring expert at ApplicantPro, gives the following advice about acquiring recommendations on your LinkedIn profile:
I would say the biggest thing is to not be scared to ask for recommendations. They look great on your LinkedIn profile, whether for job seeking or customer/clients looking at your profile.
Remember to only ask for recommendations from those who truly know your abilities and work. With your university instructors and other university professionals is a good start. Consider the example below:
Tip #10: Accomplishments
Just like including relevant skills on your résumé, it's smart to include any specific accomplishments on your LinkedIn account. So don't be shy about emphasizing what your skills are and how they'd help the company you want to work for.
Include any relevant courses that might boost your credibility, as well as organizations and projects that showcase your knowledge and expertise.
Tip #11: Interests
Recruiters take the time to filter potential job candidates based on the interests they have indicated on their LinkedIn profiles. If you are interested in landing a job in marketing, follow groups that are attached to marketing categories.
Now that you know what recruiters are looking for, take the time to optimize your LinkedIn profile. And if you have any additional tips and tricks on how to improve a LinkedIn profile, feel free to leave them in the comments.
SaveSaveSaveSaveSaveSave