Stukent sent a survey about simulations to thousands of college students and graduates around the world and received over 4,000 responses.

Here are seven reasons why you should use simulations, according to the student survey.
1. Students prefer courses that use simulations.
According to the student survey, approximately 74% of respondents who hadn't used simulations would choose a course that uses a simulation over one that does not.
Simulations bring courses to life and allow students to take on professional roles they normally wouldn't be able to take on for years. Not to mention, they can be an exciting escape from usual coursework.
---
2. Simulations prepare students for real-world opportunities.
Over 64% of survey respondents who used simulations indicated that they agreed or strongly agreed with the statement: "Simulations were effective in preparing you for opportunities outside of the classroom."
Instead of entering the job market with only a degree and summer-job experience, students can add experience from simulations, such as:
Adjusted a brand's marketing mix based on data and customer reviews
Analyzed media channel research to plan effective media outreach
Built moderators' guides for focus groups
Performed A/B testing to identify the best approach for retargeting
Allocated a high-level marketing budget based on historical data and corporate strategies
---
3. Simulations improve students' knowledge and confidence.
Not only do students get to add valuable experience to their resumes, they learn how those experiences play into professional scenarios and careers — whether students take on the role of social media specialist, marketing manager, or research analyst. This helps students understand the mechanics of professional work and prepares them to enter a competitive job market.
Approximately 90% of respondents who used simulations reported that the simulations improved their confidence level and knowledge of the subjects for which they used the simulations.
---
4. Students score highly in classes that use simulations.
About 90% of survey respondents who had used simulations reported scoring A's and B's in the courses they used simulations.
Simulations engage students, and engaged students are more likely to succeed academically. Check out "A Recipe for Success: Project-based Learning and Digital Storytelling" to learn more about simulations and student success.
---
5. Simulations make other homework more valuable.
Over half of the respondents who used simulations indicated that simulations made homework more beneficial. Others reported the simulation simplified homework and helped their instructors assign homework.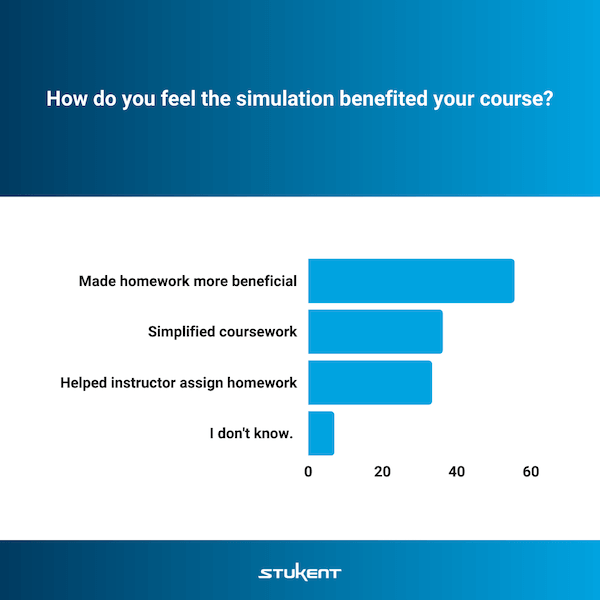 Simulations equip students with professional context and experience that makes other assignments clearer and more meaningful.
---
6. Classes that use simulations are more fun.

Imagine you're taking 15 credits. Of those credits, 12 of them are dedicated to courses where you write papers, read case studies, and do everything else all classes do. Wouldn't a course that allows you to become a marketing professional for a semester be a breath of fresh air?
Over 70% of survey respondents who used simulations agreed or strongly agreed classes that use simulations are more fun than classes that don't.
---
7. Simulations get instructors involved.
More than half of the survey respondents who used simulations agreed or strongly agreed that their instructors were involved in the simulations. Simulations are engaging for instructors and students alike. In using simulations, you become a mentor and guide, helping your students comprehend and complete tasks.
11 Simulations To Check Out Today
Stukent aims to provide students with simulated experiences that facilitate just-in-time learning through real-world application. Through this approach, students are engaged in rich storylines and tasks that they'd encounter as advertising, marketing, and public relations professionals.
Check out Stukent's Mimic Simulations to see which is right for your course: