What's New to Mimic Social?
Mimic Social now has a freshly updated look, exciting new features, and a redesigned algorithm that utilizes artificial intelligence!
And for the first time, students will now:
Optimize posts using ad objectives for paid posts
Interact with Buhi customers to practice social listening
Answer questions from coworkers to demonstrate social media marketing knowledge
Create and schedule ads for both organic and paid social posts


Measure key performance indicators for tracking social media marketing success


Perform demographic targeting to increase engagement and drive conversions


Utilize content variation and test different promotional strategies


Conduct data analysis to optimize performance across multiple social media channels


Test social media content and promotions to increase engagement and drive conversions


Manage an advertising budget


Practice social listening and engaging with consumers
EXPERIENCE REAL-WORLD SOCIAL MEDIA MARKETING
Give your students the opportunity to learn social media marketing best practices in a simulated real-world work environment.
No other alternative courseware allows your students to experience working with tens of thousands of dollars in social ad spend.
Experience the world's first social media marketing simulation in your class today! 
Create and Schedule Organic Social Media Posts
Optimize Posts Using Ad Objectives for Paid Social Posts
Practice Social Listening and Interact With Customers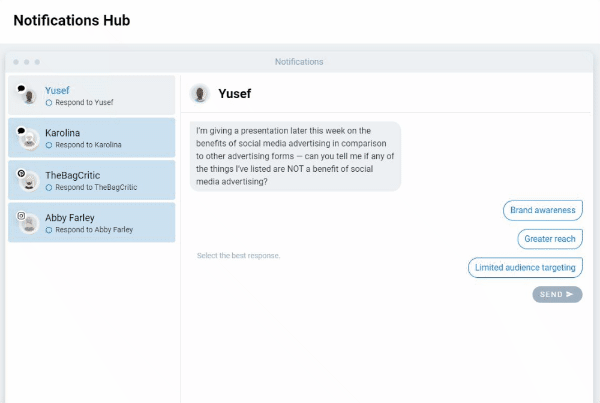 Conduct Data Analysis To Optimize Performance