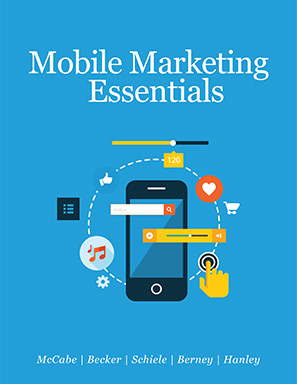 Teach All the Fundamentals of Mobile Marketing in One Textbook
All digital and mobile marketing students need to be familiar with the fundamental principles of mobile marketing. There is a significant lack of marketers with robust skills in mobile marketing in the job market, and students who have these skills will possess a clear advantage over other candidates when starting their careers.
Use Case Studies
Case studies are one of the most effective methods for teaching students the marketing concepts and the decision-making processes involved in running a business. Mobile Marketing Essentials features a case study in every chapter to demonstrate how the marketing concepts apply to real life. 
Teach Up-to-date Concepts
The mobile marketing world is fluid and ever changing, which is why Mobile Marketing Essentials is updated regularly to reflect the latest in trends and technology, Students will learn how to leverage mobile audiences, mobile apps, and mobile advertising among other key concepts.
Chapter 1: Understanding the Mobile Audience
Chapter 2: Creating Strategy for Growth
Chapter 3: Establishing a Mobile Path
Chapter 4: Engaging Customers for Profitability
Chapter 5: Marketing Mobile Apps
Chapter 6: Experiencing Mobile Advertising
Chapter 7: Understanding the Mobile Landscape
Chapter 8: Mobile by Design
Chapter 9: Intersecting Mobile and Privacy
Chapter 10: Profiting in the Mobile Marketing Future
Single Sign-on   |   Rostering   |   Grade Book Syncing​  |  Deep Linking