The World's First Social Media Marketing Courseware for High Schools
What's included in the bundle?

Click below to learn more.

The World's First Social Media Marketing Courseware For High Schools
What's included in the Bundle? Click the buttons to learn more.
High School
All-access Pass
The High School All-access Pass gives teachers access to not only the Business Finance Simternship™ but all 12+ simulations and courseware offered by Stukent.
For a limited time, early adopters can lock in a multi-year High School All-access Pass at a discounted price. 
High School Social Media Simternship™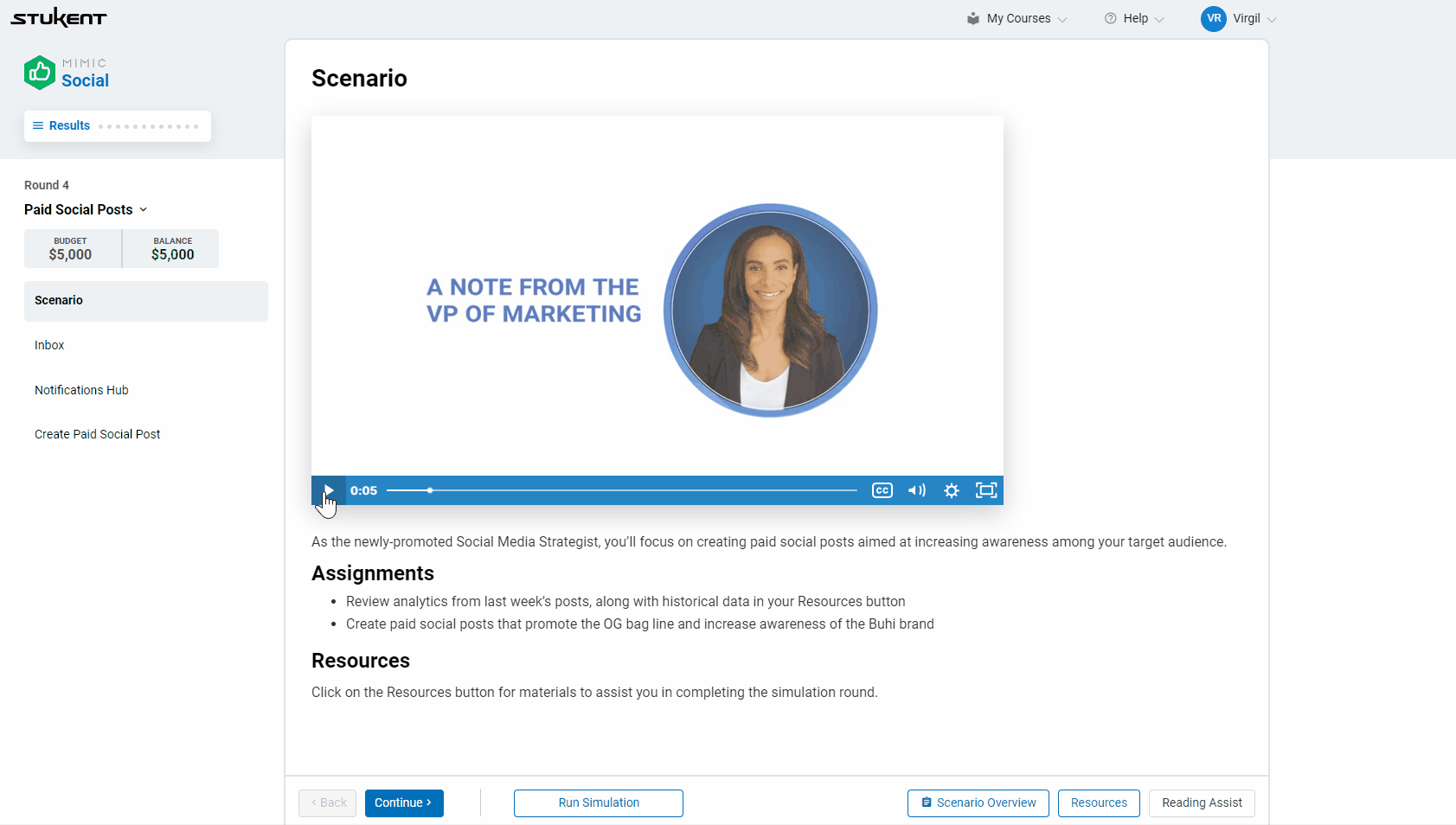 Social Media Simternship imitates real-life social media platforms, giving students an impactful, hands-on experience they can use in their future careers.
Students practice creating organic social posts and promoting paid social posts in different capacities. In the role of a social media manager at the fictitious company, Buhi Supply Co., they will manage a simulated budget, respond to customers, and plan and analyze the success of a social media campaign. This simulation is user-friendly and gives students real-world experience to take with them into the industry.
Key Learning Objectives in Social Media Simternship™
Create and schedule organic and paid social posts
Measure key performance indicators
Perform demographic targeting
Utilize content variation and test strategies
Conduct data analysis to optimize performance
Manage an advertising budget
Social Media Simternship™ now has TikTok!
In the Social Media Simternship your students will assign budgets across a variety of social media platforms, including TikTok.
Your students will create and analyze the success of social posts for Buhi Supply Co. throughout the simulation to make the strategic decisions to get the most ROI. 
The Social Media Simternship™ that lets students create, optimize, and analyze organic and paid posts on TikTok.
Using reports provided for the students to understand the current standings of Buhi and how your student can act as a social media manager to grow Buhi's presence and success.
Stukent Industry-vetted Certification Included
The new Stukent Social Media Marketing Certification is an excellent way to help students build their resumes and show their expertise. The certification is FREE with every purchase of the Social Media Marketing Bundle. 
The Stukent Social Media Marketing Certification includes:

80-question exam

Official Certificate of Completion (print or digital copy)

Industry-vetted evaluation reviewed by professionals from Google, HubSpot, and more!
"Marketing Strategies" Courseware
Foundational Social Media Marketing Concepts
The textbook covers key concepts and foundational theory in social media marketing, including social media for business, paid social media advertising, analytics, audits, and campaign planning. The book also includes an introduction to digital marketing. 
Hands-on Learning Experience
"Marketing Strategies" is packed with resources that provide practical, hands-on learning experiences. The textbook, class projects, in-class activities, and Expert Sessions position your students to succeed in social media and digital marketing now and in their future professions. 
Personal Branding
After receiving instruction on core social media marketing strategies and concepts, students will have the opportunity to build their own personal brands. They will learn what a personal brand is, how they can influence that brand, and the benefits of having a personal brand. 
Chapter 1 – Introduction to Marketing
Chapter 2 – Introduction to Social Media Marketing
Chapter 3 – Social Media for Business
Chapter 4 – Facebook Marketing
Chapter 5 – Instagram Marketing
Chapter 6 – Twitter Marketing
Chapter 7 – YouTube Marketing
Chapter 8 – Snapchat Marketing
Chapter 9 – TikTok Marketing
Chapter 10 – Paid Social Media Advertising
Chapter 11 – Social Media Analytics and Audits
Chapter 12 – Social Media Planning
Chapter 13 – Personal Branding
Chapter 14 – Digital Marketing

Winner of the 2022 SmartBrief Readers' Choice Award
Help educators help students help the world
Stukent Keeps Academia Current
Get Access to Our Entire High School Catalog of Simternships™ and Courseware